The annual Norwegian's Giving Joy® program is designed to highlight the connection between travel and education and to recognize teachers for their unwavering dedication to inspiring students every day. This year, Norwegian Cruise Line relaunched its contest in May during Teacher Appreciation Week, providing teachers with an opportunity to sail on the all-new Norwegian Prima.

The below top 100 educators across the U.S. and Canada received the most votes and won a five-day sailing aboard Norwegian Prima during her inaugural sailing from Galveston, Texas and the Company hosted a showstopping award celebration on board. The top three Grand Prize winners received a $25,000, $15,000 and $10,000 donation respectively for their school, in addition, they were awarded with nearly $40,000 in surprise prize money.

To date the program has awarded 230 teachers across the U.S. and Canada with free cruises and donated over $350,000 to schools and educators since 2019.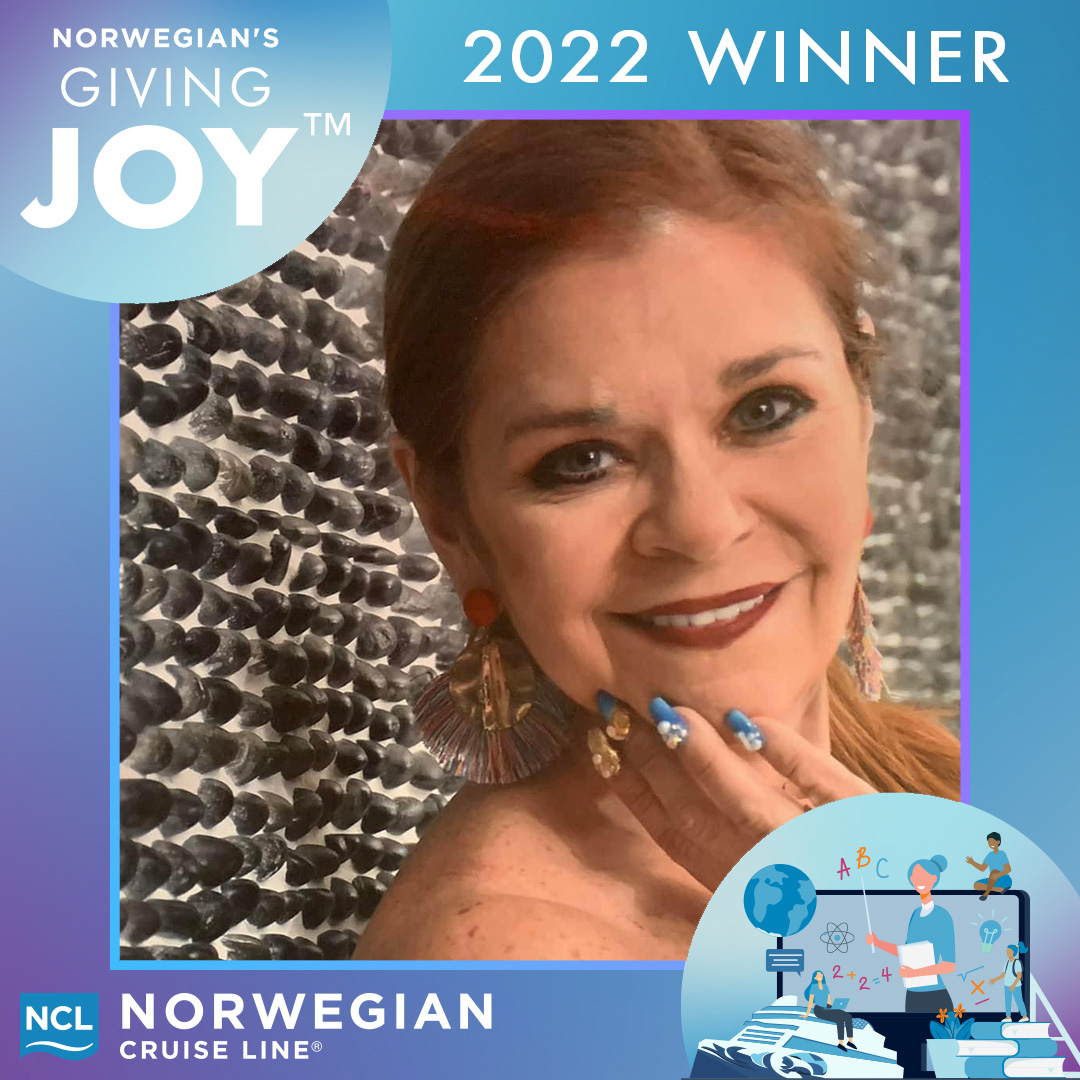 PATRICIA HOSMER
$25,000 FOR BAYONNE HIGH SCHOOL | BAYONNE, NJ
Mrs. Hosmer has been a dedicated teacher and curriculum writer at Bayonne High School for over 35 years. A widowed breast cancer survivor she teaches tirelessly not only her at traditional day school position but also at an Alternative High School in the evening. She realizes that all students need a sense of importance, a positive self-image, and an awareness that their education is valuable. Therefore, she additionally helps tutor students in all subjects who are unable to attend school due to illness and are home bound. She treats each student as if they were her own. As the President of New Jersey Collaboration and Partnership Schools she joins colleges and universities together with local schools to provide professional development for educators, students of education and Professors in those universities. She is kind, devoted and a marvelous science educator. She shows her students love and makes sure each knows how important they are to her in addition to teaching Biology, and Forensic Science. She helps each student reach their full potential. She remains in touch with many students as they grow into adulthood. Attending her former students' weddings and baby showers is among her favorite things to do! She relishes watching them grow into their lives and become successful. Her students love her just as much as she loves them! Her biggest joy is being the mother of a wonderful 27-year-old Special Education teacher Rebeca. Her and her daughter enjoy traveling, especially on NCL cruise ships!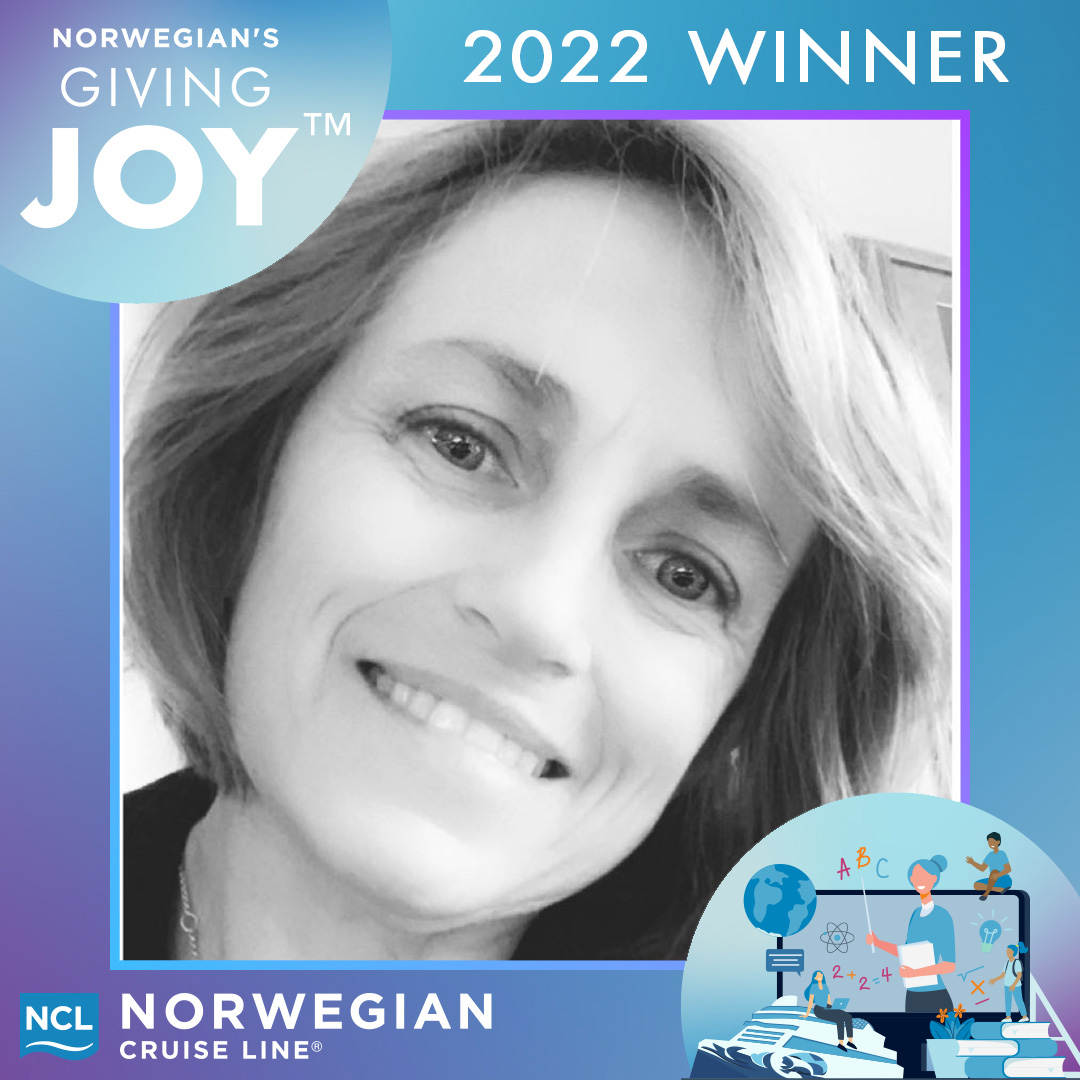 THERESA SCHRAGER
$15,000 FOR FALCON COVE MIDDLE SCHOOL | WESTON, FL
I, Theresa Schrager, believe that all children can be inspired and motivated to learn. Many children have hurdles to overcome, but hard work and creativity is what makes a student strive in my Film and Creative Writing classes. Sometimes, I am the only class that keeps students coming to school, and I have to motivate them to do their best in other classes. Other times, I have students that are intelligent across the board and are high achievers, but they need to develop their creative side through Film and Creative Writing classes. Every year teachers face new challenges and need to develop a curriculum with the changing times and technology. My classes give me the flexibility to help students adapt creatively to the changing times. Teaching has given me the oppotunity to assist our young people to evolve and become a contributing member of our society. As we all know, "The children are our future."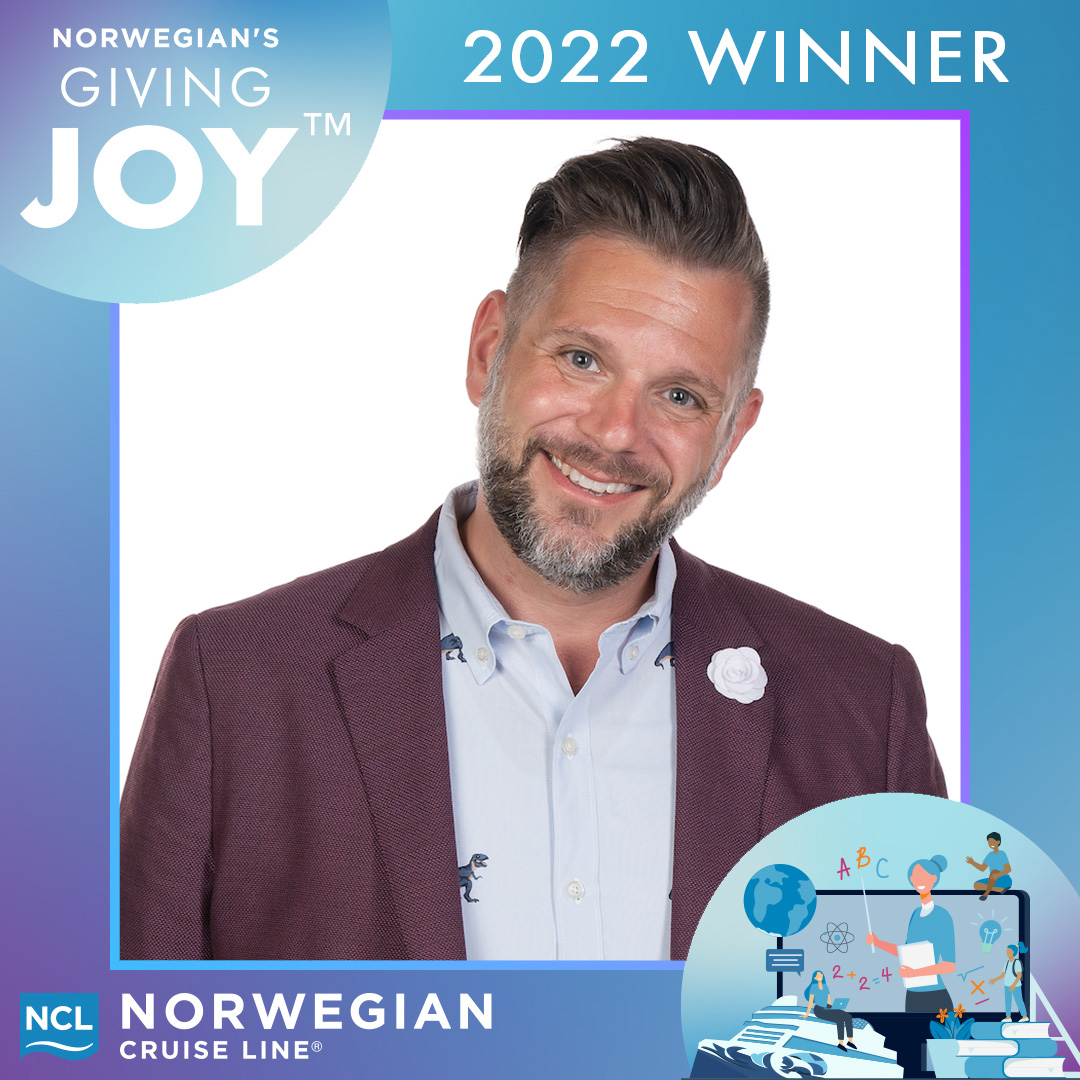 ANTHONY STIRPE
$10,000 FOR NEW ROCHELLE HIGH SCHOOL | NEW ROCHELLE, NY
I believe that every student has the power to be great. As teachers, we have superpowers; when we put a grade on an assignment, we have the ability to make a student see or him or herself in a particular way. We label them a success, mark them as average, or, worst case, we set them up for failure. I like to create a classroom where all kids find something they excel in. When students struggle, I let them know it is okay to fail forward, make mistakes, correct those mistakes and grow. I was not always this way. Once upon a time I was a traditional English teacher, and I would number my desks, teach generic writing formulas, and demand a quiet classroom. Years later, with opportunities to teach in new ways I was challenged to "get off my spot," as I like to say. I now realize it is not my job as a teacher to ask my students to move to me, instead I now realize I must find my student where they are if they are to be successful, or at least meet them half way. I am honored to teach in the largest Urban/Suburban high school outside of New York City, and it has been the privilege of a lifetime to bring all of these students together to see who they are, but also to help students see how far they can go if they reach.