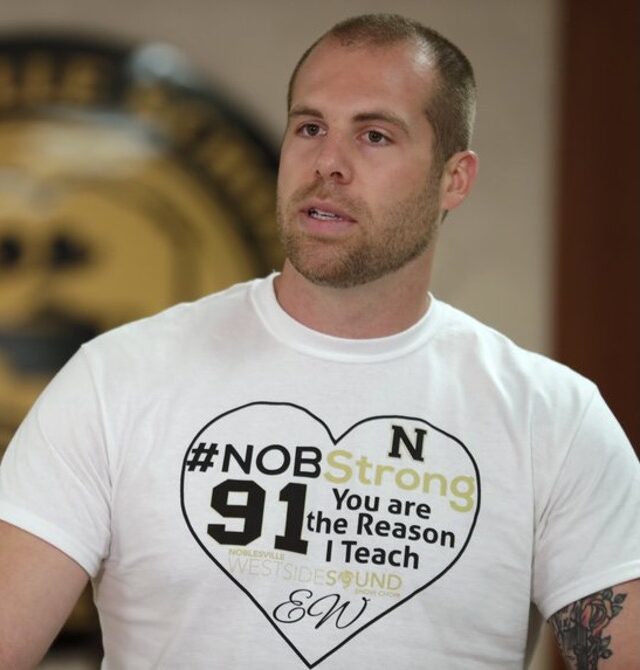 JASON SEAMAN | NOBLESVILLE, IN
$15,000 for NOBLESVILLE WEST MIDDLE SCHOOL IN NOBLESVILLE, INDIANA
Jason Seaman is more than a teacher; he is a real-life hero!
In 2018, the community of Noblesville, In., was hit with a tragic event. Noblesville West Middle School was faced with an active shooter situation, and Jason went above and beyond, risking his life for his students'.
The following year, Jason was nominated for the 2019 Giving Joy campaign by Kim McAtamney for this act of heroism and his evident dedication towards his students. Earning over 14,000 votes, he was named the Second Grand Prize Winner, winning $15,000 from Norwegian Cruise Line to Noblesville West Middle School. The donation has been used to fund a teacher recognition program that has helped support, validate and encourage educators to continue doing what they do best as the school stands together and continues to move forward after the tragic events that unfolded in 2018. The program strives to help teachers feel valued and continue to inspire their students and be heroes in their classrooms.
Jason continues to receive recognition for his heroic act, and in 2020, he was inducted into the Mahomet-Seymour Education Foundation Hall of Fame. In addition to the induction, Jason has been awarded about 25 plaques, a handful of trophies, ten or more coins/medallions, and honorable certificates.
Jason's Nomination Letter: A True Hero
May 25, 2018 I, as well as 1,500 other parents, received a phone call no parent should ever receive. There was a shooting at my child's school. My son, a then seventh grader at Noblesville West Middle School was in his second period science class, Jason Seaman was the teacher. A classmate came in and opened fired in his classroom. Jason Seaman quickly went into action throwing a ball at the shooter and pinning him down so the rest of the class and school could run to safety. Jason took three bullets in the process. I, and hundreds of other parents, are forever greatful for his heroics and I could not think of a more deserving person for this prize.