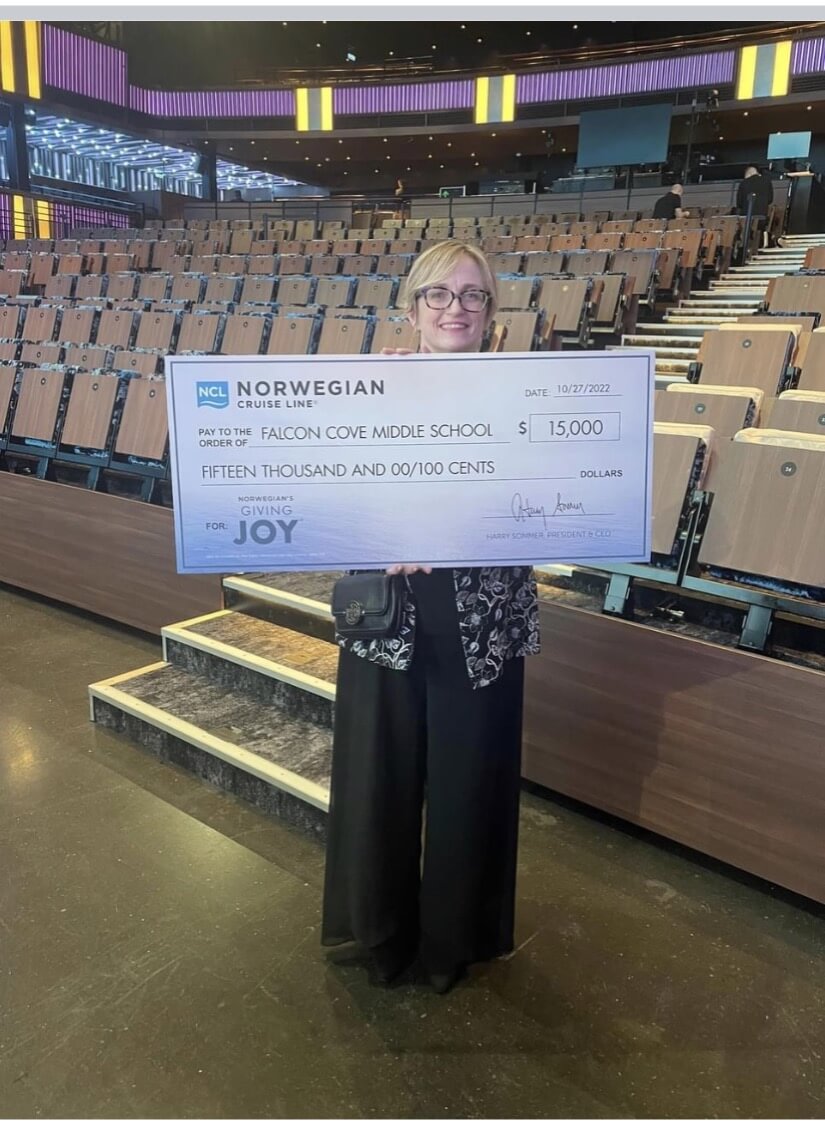 Theresa Schrager | Weston, FL
$15,000 for Falcon Cove Middle School in Weston, FL
Theresa Schrager has dedicated 35 years to providing a remarkable educational experience for her students. Her devotion and hard work have been recognized through Norwegian's Giving Joy program in 2022, where she was awarded the Second Place Grand Prize donation. This prestigious prize will undoubtedly enhance the learning experience of the students at Falcon Cove Middle School.
With the $15,000 donation from Norwegian Cruise Line, Falcon Cove Middle School was able to purchase state-of-the-art computers with dedicated graphics processors that enhance video and graphic editing for Theresa's Film and Creative Writing classes. These computers are crucial to video editing, a vital component of many student projects. The donation also enabled the school to acquire laser printers for the classes, making it easier to publish students' work.
Thanks to the donation fund, Theresa's students now have access to the latest top-of-the-line tripods with Bluetooth accessories, desktop publishing software, film editing software, and many other accessories. These donations have truly enhanced the learning environment of Theresa's classes, giving her students the tools they need to excel in their studies.
A Note from Theresa Schrager:
As an educator, the NCL Giving Joy Contest 2022 impacted me in many positive ways. Having been an educator for 35 years, this contest showed me that there are corporations that appreciate education and wish to acknowledge the hard work that the teachers put in daily.  The gifts and prize money for my classes and myself was absolutely a dream that I am so appreciative of. I still pinch myself that it really happened. Additionally, this contest made me realize how many students' lives I have touched when the voting took place because I received many notes thanking me for being a supportive teacher from students over my vast career in Broward County. Furthermore, I networked with many teachers from all over the United States and Canada which was truly an enlightening experience. Without a doubt, winning second place was absolutely an awesome experience.